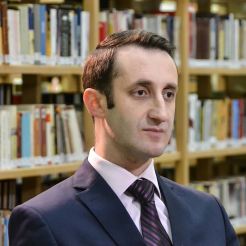 Dr. Genti Kruja He graduated in Sociology at Istanbul University in 2003. In 2007 he took the master degree in "Sociology-Philosophy, by thesis "Inter-Religious Dialogue and Tolerance, Trends and Challenges", at Tirana University, Social Sciences Department.
In 2015 he graduated in PhD at Tirana University, Social Sciences Department, Branch Sociology-Philosophy
From 2003 to 2005, he was Director of PRIZMI Publishing House and Dialogue Center. During 2005-2010, was director of Human Resources at Albanian Muslim Community. During 2010-2016 was Director of Culture and Inter-Religious Dialogue at Albanian Muslim Community. He is also director of "Drita Islame" magazine until 2014-2016 and since 2012 he is Editor in Chief of "Zani i Naltë" Journal. He was also the General Secretary of the Albanian Inter-Religious Council and he is member of Institute of Sociology.
In recent years, through various programs, has made possible cooperation with several national and international organizations for organizing events for the outreach of dialog values, with which he has organized also international symposiums and international conference.
Dr. Genti Kruja also has participated in some conferences inside and outside Albania. He is author of "Albanians in front of inter-religious challenges; Trends and Challenges".
Since 2017, January, he is Head of Department of Islamic Science and lector in Bedër University.
Department Secretary
Fatjeta Resulmemaj