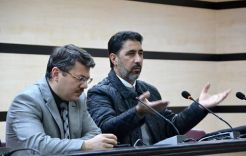 Dr. Jamal al Saferty, lecturer in Islamic Studies Department, today held an open lecture with the students of this study program is entitled "Knowledge and methods how to obtain it."
After he emphasized the importance of that knowledge occupies in the Holy Qur'an, he illustrates his lecture with examples from the history of mankind.
Further he stopped briefly on the most effective methods on how to benefit knowledge, and they are: sincerity or commitment mention the intention, programming time and expertise in the relevant field.
Conversation with the students continued with the numerous questions from the latter about various aspects of the theme of the open lecture contained.