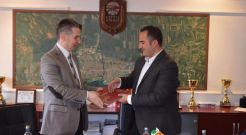 Bedër University College signed a cooperation agreement with the Municipality of Struga.
In the Municipality of Struga, a delegation of KU Bedër led by Prof. Dr. Ferdinand Gjana held a meeting with representatives of the municipal administration as well as the Director of NP "Proaqua".
The meeting aimed at linking a cooperation agreement between the two institutions in the field of education, exchange of student experiences, realization of practical work and other cross-border cooperation within IPA funds.
Prof. Dr. Ferdinand Gjana presented all the programs offered by Bedër University College, various types of scholarships, as well as various co-operation with several municipalities and communes from Albania, Kosovo and North Macedonia.