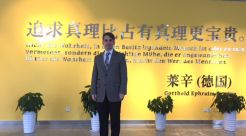 During these days, the Rector of the Bedër University College, Prof. Gjana met with the president of Zhejiang University of Science and Technology, where they discussed about a potential partnership between the two universities.
Zhejiang University of Science and Technology (ZUST) is an institution of higher education founded in 1980, located in the historic and picturesque city of Hangzhou, the capital of Zhejiang Province, one of the most prosperous provinces in China. ZUST is a multidisciplinary university with focus on engineering including science, art, economics, management and education. ZUST's development is closely related to it's international cooperation. ZUST, since it's inception, has entered into collaboration with Germany and is now an important platform for technology education and cooperation between Zhejiang Province and Germany. To date, ZUST has successfully established formal cooperation with over 50 universities in Germany, the United States, Italy, the United Kingdom, Australia, France, Japan, Korea, Netherlands, Belgium, Romania and so on. ZUST is still making further strides in developing international co-operation in the fields of exchange of academic staff and students, research and study programs.
Rector of the Bedër University College, Prof. Dr. Ferdinand Gjana and President of the Zhejiang University of Science and Technology, Prof. Ye Gaoxiang signed a co-operation agreement on November 28, 2018.
The agreement between the two institutions includes:
Exchange of academic and administrative staff
Exchange students in Bachelor and Master programs
Organizing joint research projects and publications
Collaboration and exchange of resources and staff with regard to library services and other similar services.
Exchanges and other academic collaborations in the field of education.