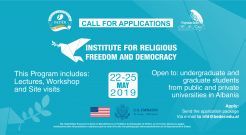 THE INSTITUTE FOR RELIGIOUS FREEDOM AND DEMOCRACY
The Institute for Religious Freedom and Democracy is a three-day training program designed for undergraduate and graduate students from all public and private universities in Albania. It is open for participants from all study programs in, but not limited to, social sciences and humanities. The program will consist of lectures, discussions, student presentations, guest lectures and visits to religious communities and objects of cult.
The project is inspired by the Study of the U.S. Institute on Religious Pluralism in the United States. This is a pilot program that will be transformed into a summer or winter institute for participants from Albania and the region. The goal of this program is to provide the necessary historical and theoretical foundations for the study of religious freedom and democracy, discuss specifics of the situation in Albania, and engage students in exploring ways to enhance religious harmony in Albania.
The program will include topics related to philosophical and religious bases of the tolerance and religious freedom, the historical origins of religious freedom, the judicial and political responses to conflicts between freedom of religion and other human rights at both national and international levels, with dealing several examples in different parts of the world.
# Application criteria
Applicants must
• Be undergraduate and graduate students from Albanian public and private university
• Demonstrate good academic status
• Have B2 level English Language proficiency
• Committed to attend all program sessions and participate actively
# Application process
A full application package consists of:
•Motivation letter
(max. one-page word document, Font size Times New Roman 12)
•Curriculum Vitae
(max. two-page word document, Font size Times New Roman 12)
•Confirmation letter of student status from the university
•Proof of English Language proficiency (if available)
Interested applicants should submit the application package via email to irfd@beder.edu.al no later than April 20, 2019, 17:00.
All required documents should be attached to the email with subject line Application for the Institute for Religious Freedom and Democracy.