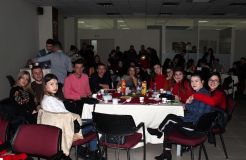 The Student Council of "Bedër" University College organized a festive evening celebration with the presence of a large number of bachelor students.
Student Council President Kristi Mukollari expressed the importance of cooperation between students and the Student Council to realize not only a successful academic process but also a richer student life by organizing such activities.
This festive evening, under the moderation of Ermal Qori, passed between the atmosphere of the songs with the student's own performances, entertainment, surprises and gifts for each other.